I am Gilles, photographer, videographer, coffee and wine lover and dog fanatic. In my spare time you can find me in 1 of the better coffee bars in Ghent where I always order an Oat milk Chai Latte. One of my biggest passions is traveling and a destination that will never bore me is New York. Love the vibes there! In the evening you can find me lying under my blankets with a good series in front of my eyes. Current obsession: The Crown.
As a creator, I am greatly fascinated by documentary style: Capturing real people, spontaneous moments, life as it is. I try to apply this style to everything I make.
Roses Are Blue / 1 Year Off Seasons 2, 3 & 4
Hotel Hungaria / Online series "Animalicious"
Het Peloton / Freelance videographer + Intern Content Creation
Caviar / Intern Production-assistent
Girls Of Honour / Publication Wedding Video

On the 13th of May 1998 I arrived in this world. 
Hooray! Nobody knew what was coming 😉
I skipped a big part of my life, but something crucial happened in 2011. My first encounter with a camera. I still remember it vividly. I was traveling and some friends of my parents brought a big DSLR on the trip and I was immediately obsessed. The rest of the trip I walked through the mountains of Italy with a camera as big as my head. And yes once I was back in Belgium, I kept begging my parents to buy a DSLR, because I had to have one. Well, thanks to them I had my very first camera a few months later.
A normal Friday morning at highschool. I was in Dutch class and we were talking about films and how to create a story. I was sold right away. The rest of the day I had science courses (because yes I studied Science Mathematics, can you imagine?), but there was only one thing on my mind: I wanted and would make a shortfilm. That same evening I was crawling behind my computer and a few days later my first script was reality.
A month later I made personal history with my friends. Together we filmed the movie I had written. Wow. One of the best experiences I have ever had. No fancy material, experienced actors or professional experience at all. Just us making a movie together. That same summer we even made a sequel. For those who can search the internet well: let me know when you find it! 😉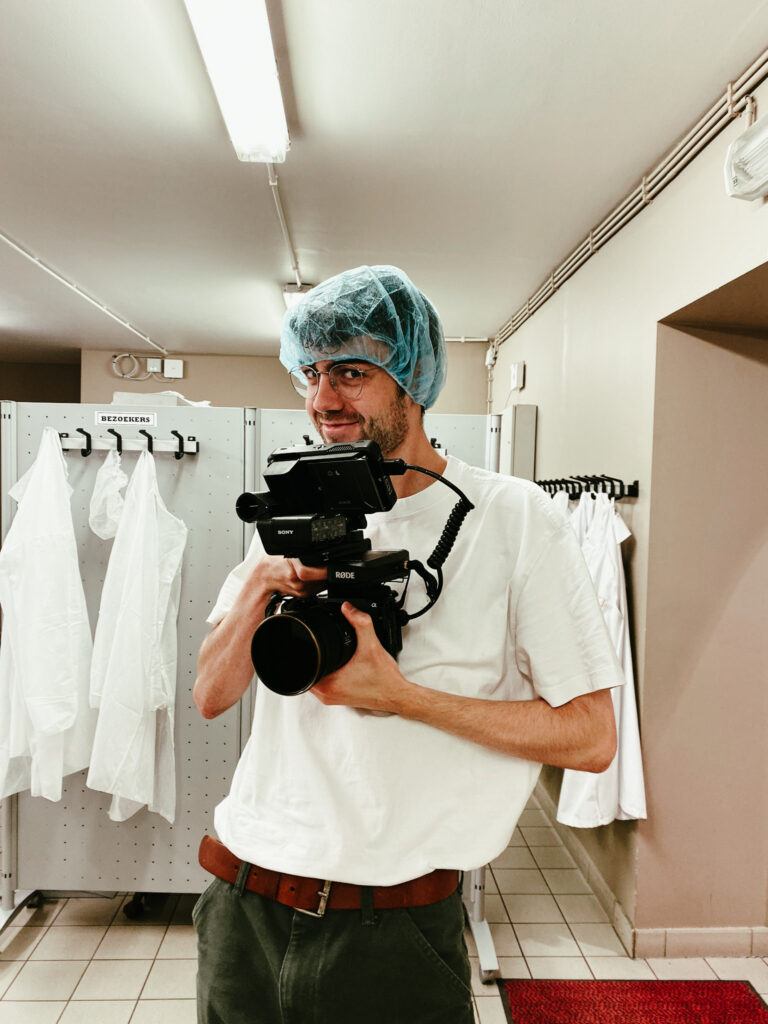 I finally graduated highschool. Time to do something that really interested me. I dreamed of studying film right away, but my parents weren't really fond of it. So I chose Journalism.
During my Journalism study we learned to work with cameras's and soon I went my own way. I started a YouTube channel, made videos, explored my style and told stories.
In 2019 I worked on big film sets for the first time. I did an internship at one of the largest production houses in Belgium, Caviar. I was production assistant: An ideal position to see and learn a lot. After a successful internship, I was in love with the world of filmmaking and I absolutely wanted to go further in it. After a lot of begging, I finally managed to pursue my dream: Go to film school!
In 2019 I also photographed my very first wedding after one of my best friends and fellow photographers, Nikki, took me with her. And I have to say, since then I have been obsessed with photographing love!
There were several milestones in 2020. First of all, I became a student-independent photographer and videographer. At film school I was able to thrive in creativity, until Covid got ahead of us. But that didn't stop me. I searched a summer job in the film sector! And low and behold, there came one of the most beautiful opportunities I have ever had. I was allowed to work as a videographer for 1 Year Off. Filming for a TV show at 22, that was something that only occurred in my wildest dreams. And I'm not going to lie, but I had to catch a tear when I first saw my videos on TV.
Covid was still very active and going to school was not really easy, but I continued. I made my first short documentary in 2021, "Harry": A work that I am still very proud of. To my great surprise, the documentary was received very well and the film was even shown at a number of small film festivals in Ghent. At that time I knew I had found my passion: Making documentaries.
2022 was an important year: my last year as a student. It was a year that was filled with different film projects. The most important thing was my graduation documentary "Evermore": A short documentary about loss. When I told you that it took blood, sweat and tears to create that documentary, I wasn't lying, but once we finished the final version there is only 1 word that could describe our feelings and that was "pride". I couldn't watch the documentary without catching a tear at the end.
Eventually I graduated film school in June 2022 with great honors. My dream came true: I had gone to film school. One of the biggest chapters of my life closed. Right after I graduated I became self-employed and had a summer that was fully booked with weddings. And for the third year in a row I was allowed to get back to work for 1 Year Off. What the next big chapter will be is still a question mark, but I am sure it will be amazing! 
SO, THAT WAS MY LIFE IN SHORT, OR NOT SO SHORT, I TRIED.